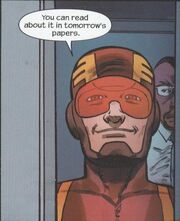 Flying Guy
is described as an Armenian man with a history of mental health problems. He is also a man who, inspired by
Kick-Ass
, decided to try and become a superhero.
He is shown at the opening and the ending of the Kick-Ass graphic novel, having just created a costume and a metal set of wings, hoping to make his debut as a costumed crime fighter. He jumps off a rooftop, expecting to fly, but predictably falls and crashes into a parked car.
He is presumed dead, although this is never confirmed.
He briefly appeared on Kick-Ass film, reprising his role from the comic book.
While he never claims to be called Flying Guy, a script in the early development of the graphic novel refers to him as Flying Guy, and so this is the closest to an official name that he will ever get.
Ad blocker interference detected!
Wikia is a free-to-use site that makes money from advertising. We have a modified experience for viewers using ad blockers

Wikia is not accessible if you've made further modifications. Remove the custom ad blocker rule(s) and the page will load as expected.