Home
Talk

7
192pages on
this wiki
WELCOME TO THE KICK-ASS WIKI
Welcome everyone to the Kick-Ass Wiki!
A wiki about Kick-Ass that anyone can edit.

WARNING! THIS SITE CONTAINS SPOILERS
192 articles and 1,126 images since July 8, 2011
This wiki has all you need to know about the Marvel comic and movie by Mark Millar and John Romita, Jr., as well as Kick-Ass 2, the sequel to the original Kick-Ass film.
Please follow a the List of Wikia guidelines and Code of Conduct.
Follow our Official twitter page Kick-Ass Wiki, Hit-Girl & KickAss on Twitter. 

Announcements
So it's been over 2 months into 2014, and since my last announcement. I've been juggling my personal life and managing the wikia on a daily basis, but so far much is unchanged. There's still a lack of contributors and editors on this site. There is only 1 admin and bureaucrat on this site, and that's me. I've taken it as my vocation to keep site info maintained, and I've been slowly but surely constructing the film set locations pages. I have to point out this is a very lonely job, and it has been relatively unfullfilling because of the lack of support. However, that is the nature of wikias. I'll still be around albeit very rarely. --SilentAltruist (talk) 17:54, February 28, 2014 (UTC)

I am currently looking for someone to either replace me or help me with Admin duties on this wikia... currently I am running the ENTIRE SITE by myself. This is a one man operation.. I'd rather it be a collaborative project, but till than I remain to have unwanted totalitarian control of the wikia. I will try my best to maintain quality and accuracy on this site best as possible for fans, creators, and writers of this wonderful franchise. --SilentAltruist (talk) 07:47, December 20, 2013 (UTC)
Hit-Girl colored theme has been added to the site, translucent effects and finally a new background. I hope everyone likes the new theme, it's a mixture of Kick-Ass and Hit-Girl colours. I am still changing the character, comic, film, actor, etc templates, so they still appear green and it's hard to see. I apologize in advance. I will change them so they are more readable as soon as possible. Thank you for your patience. --SilentAltruist (talk) 10:00, December 16, 2013 (UTC)
So it's been a long year of editing for Kick-Ass wikia, I've had a very long and interesting year. I am fairly new at being the site's Admin and Bureaucrat, but I will do my best to keep things up to date and content available. Please if you are interested in being a regular member, I would love to have newcomers, and I am open to opening Admin's to this site. I am working on the film locations pages still, I will be visiting the school, and perhaps Dip n' Sip Diner to take Winter shots. I hope everyone has a good December and Happy Holidays. Take Care. --SilentAltruist (talk) 10:00, December 16, 2013 (UTC)
Comic Character Templates have been updated, added "status" category to indicate 'alive' or 'deceased'. It is still a One-Time Offense Ban Policy. Mistakes or Errors not included. --SilentAltruist (talk) 10:00, December 16, 2013 (UTC)
CHARACTERS
FEATURED CHARACTER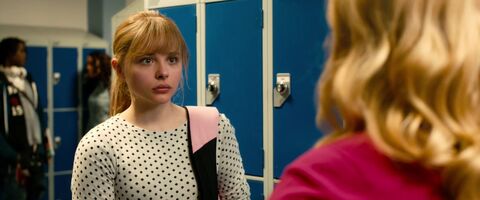 "You don't have to be a badass to be a superhero Dave, you just gotta be brave."
―Mindy-Macready
Mindy Macready is the daughter of Damon Macready and is the crime-fighting superhero Hit-Girl. She is the deuteragonist of Kick-Ass and Kick-Ass 2.
Mindy Macready is a young girl whose father, a famous NYPD officer, was framed for drug dealing by mob kingpin Frank D'Amico after rejecting the gangster's offer to work for him, and was imprisoned for five years before she was born. Her grief-stricken mother, pregnant with Mindy at the time... Read More...
FEATURED ACTOR/ACTRESS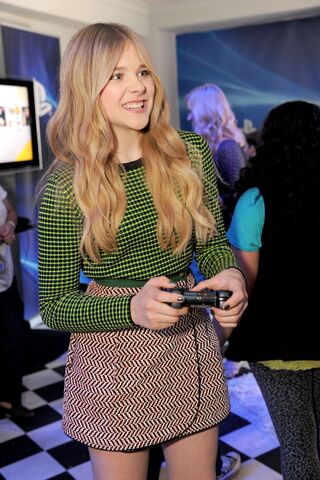 Chloë Grace Moretz (born February 10, 1997) is an American actress who portrayed Hit-Girl in Kick-Ass (2010) and its sequel Kick-Ass 2 (2013).

Biography
To be Added...
Significant Roles
Chelsea Lutz in The Amityville Horror (2005)
Carrie Fuller in Big Momma's House 2 (2006)
Melissa Norman in Room 6 (2006)
Emma Tunny in Wicked Little Things (2006)
Sabrina in Hallowed Ground (2007)
Darby in My Friends Tigger & Pooh: Super Sleuth Christmas Movie (2007)
Young Penny in Bolt (2008)
Darby in My Friends Tigger & Pooh: Tigger & Pooh And A Musical Too (2009)
Rachel Hansen in (500) Days of Summer (2009)
Angie Steadman in Diary of a Wimpy Kid (2010)
Hit-Girl/Mindy Macready in Kick-Ass (2010)
Abby in Let Me In (2010)
Luli McMullen in Hick (2011)
Little Ann Sliger in Texas Killing Fields (2011)
Isabelle in Hugo (2011)
Carolyn Stoddard in Dark Shadows (2012)
Carrie White in Carrie (2013)
Hit-Girl/Mindy Macready in Kick-Ass 2 (2013)
FEATURED VIDEOS
FEATURED SONG
FEATURED SCORE SONG
FEATURED TRAILER SONG
BONUS SONG
GALLERY
Join the Chat
NEWS
Loading RSS data...
FEATURED POLLS
How do you like the new Hit-Girl wikia Theme?
Which character do you have a crush on?
Favorite /Film Movie Couple (Shipping Poll)
Vote for the next featured song
Vote for the next featured character
Will you be seeing Kick Ass 2?
Did you like Kick-Ass 2 film?